Linda Kundell
Winter's cold, changing weather and dry indoor climates can put a lot of stress on your body, especially the respiratory system and your voice.  Here are five easy ways to care for your voice this winter:
Drink lots of fluid, especially water
Use a humidifier
Stay away from caffeine and alcohol if you have to speak, as they dehydrate
Avoid milk products and chocolate, as they can lead to mucous congestion
Suck on hard candy for added moisture
Everyone's system is different, so know how you react to different foods and environmental conditions.
How do you protect your voice in the winter?  Please feel free to share any tips or hints below.
Our new class at the 92Y begins next week, just in time for Halloween. Learn more about our course offerings, find new ways to stay in touch, and get more information on private one-on-one and small group sessions here. 
Happy Halloween!
With the elections coming up, there's a lot of focus on the speaking styles of the presidential candidates.  Earlier in the year, I analyzed the President's State of the Union Speech from a presentation perspective.
(Need a reminder?  Check out the speech on YouTube.)
No matter your political persuasion, the State of the Union address was a study in great public speaking.  Not only did the president have a commanding presence.  He captivated as he delivered his vision for America with a sense of energy, enthusiasm, and excitement. In fact, when asked to rate his speech, I gave it a 90 out of 100
Below, I've listed some attributes of his State of the Union speech, from which we can all learn.  But what about that remaining 10 points out of a perfect score of 100?  Not even the president is perfect, so I've also listed a couple of cons.  See below for my pro and con observations.
The Good
Delivery
President Obama acknowledged all sides of the room, alternately facing center and then to one or the other side of the room.
His voice was expressive, as he used a palette of tone, color, dynamics (loud and soft), and rhythm in his delivery.
He paused after sentences so the audience could digest what he had to say.
He conveyed a sense of urgency, not only in his remarks, but in his voice, and stressed important words.
He sounded confident, decisive and authoritative.
The Speech itself
The president used easy-to-understand language that resonates with most people.
He backed up and illustrated his points with specific examples and anecdotal examples of real people benefitting from government programs.
Obama used catchy phrases, such as "We need to turn government from an unemployment system to re-employment system.
The speech employed  active verbs, talking about specific actions the president  is taking
The presentation itself was well crafted, and segued smoothly from one subject to the next
Cons:
Too long

Dwelt too long in a couple of places
Slightly repetitive
A glass of ice water, a slice of chilled watermelon, a grape juice popsicle.  Sounds great in hot weather, doesn't it?
If you're a public speaker or a singer like I am, beware.  These ice cold  refreshers triggered some of the nastiest asthma  and allergy attacks I've had,  leading to extensive mucous in my throat, constant attempts at  throat clearing, and finally triggering irritative laryngitis or reflux laryngitis (when gastric acid backs up into the larynx, pharynx, and esophagus).
I admit it: I may be hyper-sensitive.  Anything mucous-producing, from alcohol to milk products, chocolate, and even red meat, can set off an allergic attack.
Years ago, when I was doing some professional singing, I went to a noted otolaryngologist who was THE go-to doctor for opera and theater legends, from pop singers to opera divas. His first piece of advice: avoid red wine, milk products and chocolate. My own voice
teachers were also telling me to avoid very hot or very cold drinks, instead sticking to room temperature or warm beverages.
Only years later, after researching and consulting doctors, did I learn that cold can trigger an allergic reaction leading to reflux, and, just as cold weather can trigger an asthma attack, so can drinking or eating something cold.  In short, it's a shock to your vocal chords.
Now that I know the culprit, I'm careful about assaulting my throat with very cold foods or beverages.  And when symptoms flare, I head for my asthma inhaler and an antihistimine-decongestant.  No more popsicles for me!
Photos courtesy of Kristin Resurreccion and Sergio Feria via Flickr.
Many of us are faced with the same situation.  You have to give a speech or presentation on a subject that is inherently dull.  How can you add interest and excitement?
Here are five ways to spruce up a dull presentation:
Change the pitch and dynamics of your voice to add variety to your sound. Speak higher and lower, louder and softer.
Vary your rhythm.  Decide when to slow down or speed up.
Add emphasis and strategic pauses.  For suspense or questions, pauses work well.
Use anecdotes.  Explain your points with a personalized story.
Involve the audience.  Ask rhetorical questions.
These hints are sure to add variety and punch to your presentation.
Do you have any thoughts to share?
Beat the heat and learn how to stay cool under pressure with our Public Speaking Brush-Up Course on Broadway, Tuesday, July 31!
We are offering a special, one-hour class tailored to your needs, conveniently located in the Broadway Theater District.
Reserve now, limited space available.
Register by Monday, July 23 to guarantee your place.
Time: 6:30 or 8:00 pm.
For more information and to register, email speechdoctor@nyc.rr.com or call 212-877-2798.
Summer is the perfect time to hone your public speaking skills.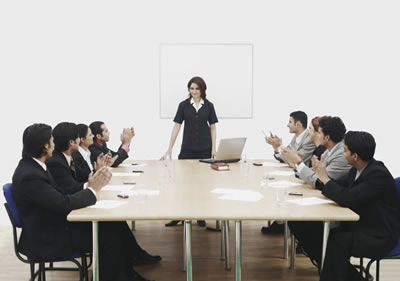 Take your speaking to new heights, brush up your skills, and get in shape for the fall months.  A one-hour session will be tailored just to you.    You tell us what you need, and we'll work on it in a small group setting!
For more information and to register: http://conta.cc/NhGBFg.
We look forward to hearing from you!
I recently attended a master class  for young opera singers with famed singer Martina Arroyo, at Hunter College in New York City.  Ms. Arroyo constantly stressed the importance of knowing who the character is, the motive behind actions, where the action takes place, and more.  She also focused on  the importance of being  prepared and immersed in the moment before you  get up on stage.
What does this have to do with public speaking?  Just like a good performer, a public speaker needs to have stage presence.   Know the context of your presentation.  Think about your words, what you want to convey,  and how you want to move your audience.  Have a sense of yourself, who  you are and why you're up on that stage, whether it's an interview, a panel or PowerPoint presentation, or a speech to a large or small audience.
Our "Techniques for Effective Public Speaking"  can help you translate the qualities of a great performer into a great presentation of your own.  For more information contact us or visit www.publicspeaking4u.com.
Commentators and TV hosts with good voices and delivery: Among women, Katie Couric, Diane Sawyer, Leslie Stahl, Cynthia McFadden, Rachel Maddow, Oprah Winfrey, Tyra Banks, Sue Simmons in New York. Men: Tom Brokaw, Brian Williams, Larry King.

What do they have in common? Soothing, pleasant voices, a sense of authority, and good delivery.  They pronounce well, exude an air of relaxed confidence, credibility and experience.  Their voices are pitched at a level that is easy to listen to, they make their listeners feel comfortable, and their pace of delivery makes it easy for the audience to understand what they're saying.
Contrast these examples of excellent delivery with the shrill and whiney broadcasters  we hear on some of the Cable, sports and financial TV channels.  High-pitched nasal voices with "rapid fire" deliveries who talk so fast they actually swallow their words, and make it hard for listeners to follow them.  I won't name the stations, but if you channel surf, you'll easily spot them.
Tell us who you think is the best and worst broadcaster. Take our quick survey.
To be a better speaker, resolve to:
Prepare and rehearse your presentation in advance
Keep your message to three main points
Be a good listener, especially in Q & A sessions
ALWAYS repeat an audience question before answering it
Remember to breathe; it will help you relax
What are your speaking resolutions for the year?